Sparkling Wine Tour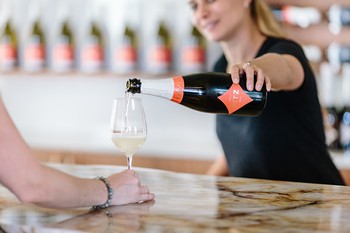 HERE'S WHAT YOU'LL SEE AND DO
Gathering Room
We'll gather in our Sparkling Wine Room to give you a quick introduction to Fitzpatrick Family Vineyards and history of Greata Ranch and the Fitzpatrick Family.
Vineyard Walk
We'll guide you out to the vineyard where'll we'll talk a bit about what makes our vineyard site distinct—our bench site, soil composition, lake effect, Mt. Eneas, The Mischief and our mature vines. We'll also discuss our viticultural approach, and how we grow great wine.
Crush Deck
We'll move along to the crush deck to discuss how we handle our estate-grown grapes after harvest using a sophisticated Willmes press system, gravity flow and Albrigi stainless steel tanks.
Barrel Room
We'll talk about the use of barrels in sparkling and their effects on the finished wine.
Caves
The caves are the heart of sparkling wine production. We'll unlock the Fitz gates and proceed up the ramp to our riddling and cellaring area. Here we'll discuss traditional method sparkling wine and some of the specifics of sparkling production like tirage, the importance of lees aging and precise temperature control. We'll also talk a bit about the history and traditions of Champagne.
Gathering Room
We finish with a Q&A back in the gathering room for a guided Fitz Brut tasting. You're also free to take your Fitz Brut and wander out to the deck and stare at the lake. We won't take offense.
* Please include your tour date in "Order Notes" on the Billing and Shipping page *