Wine Is Made In The Vineyard
Our estate vineyard features 40 acres of vines separated into 12 smaller, carefully-tended blocks. We grow seven varietals in our vineyard: Chardonnay, Ehrenfelser, Gewürztraminer, Meunier, Pinot Blanc, Pinot Noir, and Riesling, and not by accident. We arrived at the decision to focus on traditional method sparkling wine, crisp whites, and elegant, focused reds over the course of twenty years of listening carefully to the story our land has to tell. And it's a special one.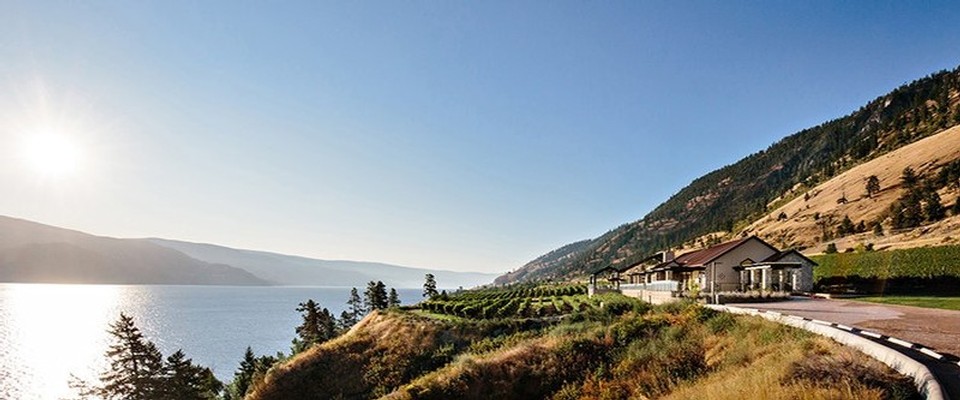 There are things that are distinct about a place that demand you make certain wines a specific way. The degree days. Soil types. Rainfall, or lack thereof. You can fight it. But in the end nature will keep sending you the same message, and it's up to you to listen. We had a hunch about what was right for our site when we planted Pinot Noir and Chardonnay twenty years ago. And we were right. But we also planted Merlot, and that wasn't quite right, so we pulled it up and planted Riesling. We also had it right with aromatic whites like Gewürztraminer and Ehrenfelser. These wines thrive here. And you have to grow what reflects the qualities of your vineyard best.
It's A Little Different Here. Here's How
There are a few characteristics that set our place by Okanagan Lake apart. The first is that we're physically and literally set apart. South of Peachland, north of Summerland, and if you look in those directions from our winery, you won't see other vineyards. Across the lake is parkland and Ogopogo's house (seriously). We're sitting in our own nanoclimate in a valley of micro ones. There is no other winery in the Okanagan growing in our specific set of conditions. In wine, we call that terroir, and ours is distinctly Fitz.
The Fitz Terroir
Mt. Eneas - Situated directly to our west, the mountain has two effects on our vineyard. During the early evening, the sun drops behind it and its shadow casts across the vineyard. Vines require direct light to break down acids in the fruit. As a result of this indirect light, the acids in our grapes are slightly higher than most. The second effect is as a radiator of heat. Because it faces into the sun all day, the slope warms and absorbs heat all day long, which it radiates back at night. This is especially useful in the fall as it can extend the hang time of our grapes by protecting them from the night time chill.
Soil Types - We have four separate soil types on the site—Burnell Lake, Greata, Naramata, and Ratnip. Each type drains well with some holding capacity which means our vines have to work hard to find nutrients (a good thing), and each offers something a little different in the finished wine.
The Mischief - A steady wind blows up Okanagan Lake from the south almost constantly. We call it The Mischief because of its ability to play havoc with vine shoots and trellises, not to mention hats and hemlines. But it keeps our vines dry and healthy which helps them resist pests and disease pressure.
The Lake - You can't miss Okanagan Lake out front. It's nice to look at, but it also helps moderate temperatures in the vineyard, especially in the summer when high temperatures can actually shut the vines down and stop development.
Vine Age - Our oldest vines are just entering their third decade, which is prime time as far as the quality of fruit they produce. It's also somewhat uncommon to use vines of this age in sparkling wine production. Oftentimes the fruit of mature vines goes to varietal still wine production, and sparkling wine is made with younger fruit, which from our perspective doesn't offer sparkling wine the opportunity to reach its full potential.
Sustainability at Fitzpatrick
The philosophy here at Fitzpatrick Family Vineyards is to farm the unique site of Greata Ranch to make sustainable, world class wines that are site and season.
We are lucky at the Greata Ranch site to be on the edge of Okanagan Lake which has a natural cooling effect and brings an almost constant breeze. This breeze cools the vine canopy in the hot Okanagan summer days helping minimize disease and heat stress. Behind the vineyard sits Mt Eneas. The shade Mt Eneas provides to the vineyard in the afternoons helps us retain our signature acidity, which means less intervention in the winery.
From the vineyard to the cellar, we are committing to responsible guardianship of the land and the grapes it produces. 2019 indicated the start of our journey into organic viticulture. The goal is to progressively work towards a chemical free property and to farm with the highest standards of sustainable viticulture.
We understand, as farmers that each season we deplete the soil of nutrients and minerals, and it is necessary to replenish the land in return of the crops we harvest. To do this, we have an estate composting program to encourage soil health and biology. Soil health is crucial in creating a balanced and healthy vineyard that can withstand disease pressure and the extreme seasonal shifts that come with growing grapes in the Okanagan. The compost is created by stockpiling all our winery waste during harvest (stems, skins and lees). We source local straw, cow manure and gather green material from the estate gardens. We layer all these materials in long windrows and leave to mature for 6 to 12 months. During this time, the materials will decompose and turn into a nutrient rich hummus that we spread back onto the vineyard. We also apply seaweed to the soil and as a canopy spray, which supplies more nutrients and when sprayed directly on the leaves can aid in combating mildew pressure.
Our integrated pest management includes leaving the inter-row grass long in spring giving a habitat for the cutworm. This allows these pests to feed on the long grass deterring them from eating and damaging the fresh young shoots and buds. Once the initial pressure from these pests has subsided, we then cut the grass short to minimize water competition with the vines.
Part of our organic plan is to improve the biodiversity on the property. A fundamental to do this is through planting inter-row crops to encourage beneficial insects. Presently we are trialing wild-flower, low cover flowering mowing crops and green manure cover crops which we will be turned back into the soil. The conversion from herbicide applications to mechanical under-vine weeding will also greatly improve soil biology by eliminating the harsh chemicals that kill off soil life.
Healthy soils, means healthy vines, which leads to healthy grapes and ferments. This vineyard to cellar integration means we can achieve minimal intervention in the winemaking process. This will allow the wines to show a true expression of fruit, place, and season. The focus is on farming quality fruit in the vineyard which will make our job in the winery easier. In the winery where practical we use wild yeast, gravity flow to move juice around, cooling techniques replaces SO2 additions and minimal additions throughout the winemaking process, ensures we help retain the sites natural flavor profile. Because we try and make the best wines possible with minimal additions this means that many of our wines are vegan.
Our objective is to progressively work towards being a self-sustaining property. To produce 100% organic estate grown and bottled wine. To eliminate the use of chemical sprays in the vineyard and to encourage the health of the soils and the vines. In return, this will allow us to make premium quality wine, which has a true expression of terroir.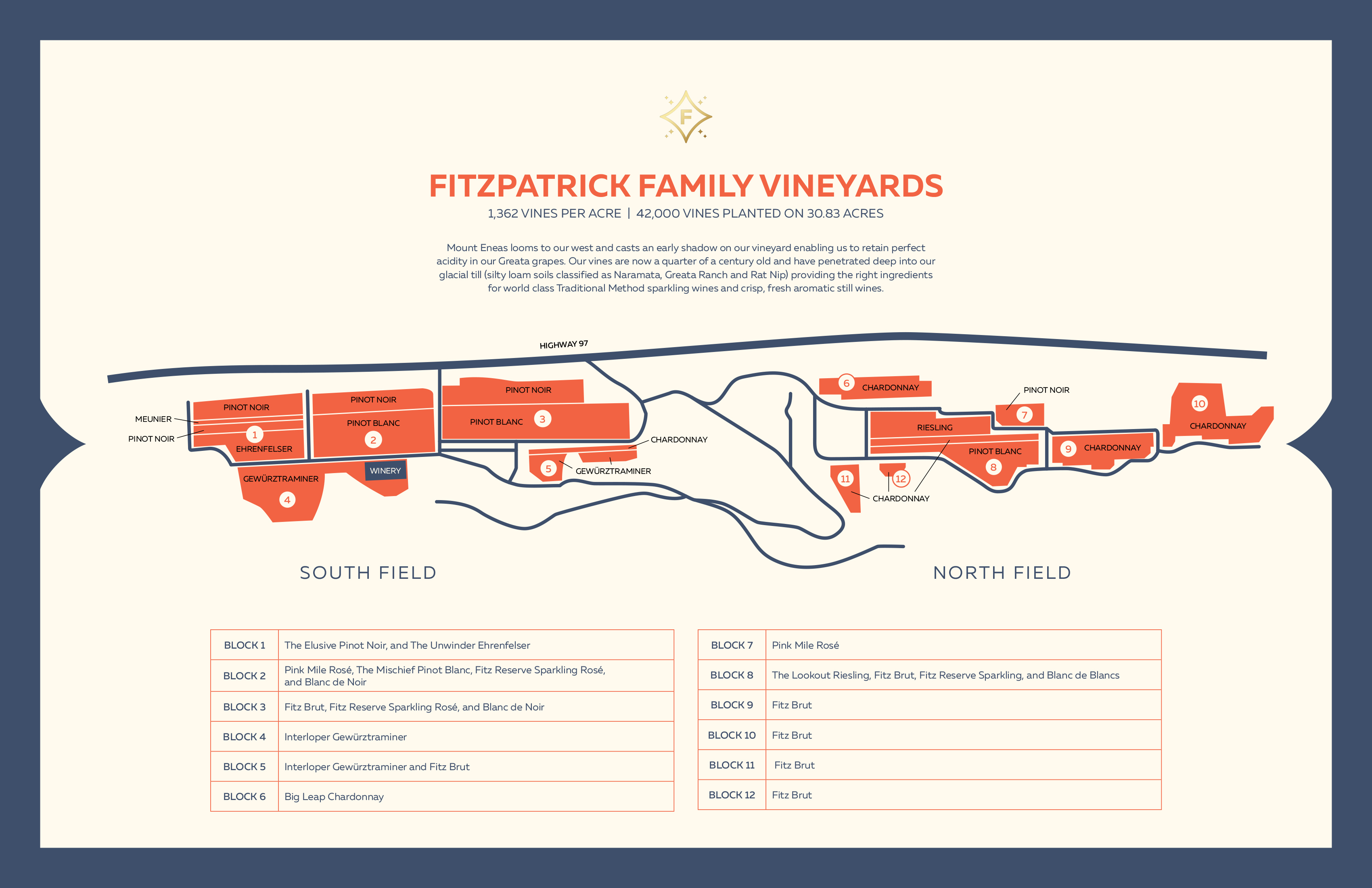 HANDS-ON WINEMAKING

Our winery was custom built to produce traditional method sparkling wine and cool-climate wines in a very intensive way. It's located, literally, in the middle of our estate vineyard, so we can watch our vines as closely as the Ospreys that sit in the trees just outside do. If we want to keep an extra close eye on the sugar levels in our Riesling around harvest time, we just walk out the side door and check them.
We take extra steps like using small bins at harvest to treat our fruit gently, and once picked, our grapes don't have to travel very far to the crush deck. In some cases, we just walk them over. Our aromatic whites are delicate, so we treat them with a delicate hand.
Our winemaking facility is state-of-the-art with an ultra modern and highly controllable Willmes press as well as Albrigi stainless steel tanks. The pressed juice flows through a gravity-feed system so we don't need to pump it which can damage a wine's more delicate aromatic qualities. We're hands-on every step of the way because we can be. We built our winery where and how it is expressly to do just that.